The Pragma CL has been designed to facilitate the pumping operations of fluids and mortar screeds and offers remarkable performance considering its price level.
Engine

• KUBOTA D 1505 4 cylinder liquid cooling used at 2600 rev / min, power 26 Kw
Manual acceleration of the diesel engine to adjust the power delivered to the site conditions.
---
Hydraulic transmission with variable flow
Soft start pumping to avoid jolts and constraints on the coupling parts.
---
The control panel
The control panel is simple and practical:
ignition switch, pump pressure gauge, setup button for the buzzer, Start button pumping in forward and reverse, pumping speed variation and control of the cleaner.
All pump controls can be operated remotely using the remote control.
Pragma The CL is the only machine to enable remote reverse.
---
The receiving hopper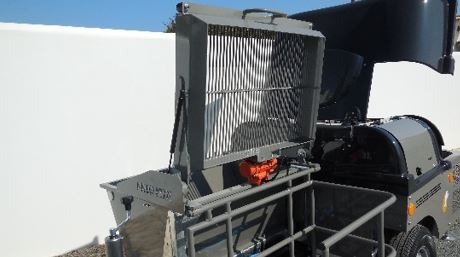 Very large and sloping to avoid the risk of overflow in the router spill.
The vibrating screen with bars covering the entire hopper and allows a good flow of the screed even fibered, a power cylinder can raise the effortless to access the hopper.
The hopper bottom is stainless steel, high aluminum part is coated with a high quality paint slipping of the product.
The screw shaft at the hopper bottom improves the feeding pump and comprises two reinforced flectors for coupling the rotor.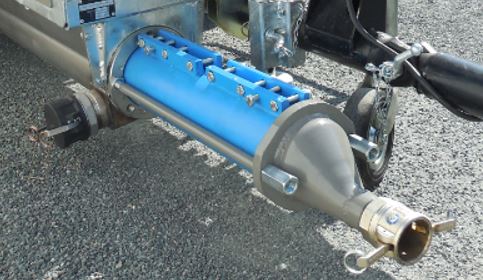 Adjustable pump speed from 0 to 360 rev / min, pump pressure up to 30 bar.
Pump casing 60.12 with a theoretical speed up to 300 liters per minute.
---
Transport pipes
The machine can carry 30 ml of piping in the storage basket.
---

A pressure washer powerful series !
Enables rapid cleaning of the machine and tools after work, it can also be used for pumping.
Flexible 10ml comes with the machine as well as launching two jets.
(Rotating nozzle and additional piping optional).

Positioning in the machine ensures the automatic emptying of the water circuit to avoid freezing in winter conditions.
---

Air compressor hydraulic drive optional !
• Adjustable Air Flow

Very handy for the drain pipe, it allows the re-aspiration of the product machine.
---
Full accessibility to mechanical parts !
New engine casing, complete access to filter elements to promote the maintenance and reduce response times.
Fuel tank capacity 30 liters directly accessible from the cover open as the battery.
The polyester cover can be removed in minutes for total access to the engine compartment.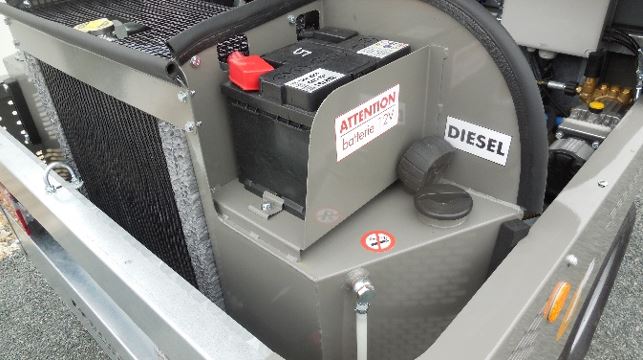 ---
Galvanized road chassis
Galvanized tubular chassis approved UTAC, 1100 Kgs road axle, drawbar T and large wheels (165/80/13) give the machine exceptional driving qualities, Approved to 130 km / h.
The less than 750 kgs weight allows the tow unlicensed Eb.
The lights are protected by the body, very resistant coiled cord allows their connection to the tractor.
• The jack castor wheel allows easy attachment to one man.
• The crutches in the back and in the front stabilize the machine during operation.
---
Surface treatment of steel components
• Blasting
• Metallization by galvanizing
• Epoxy paint